The P.L.A.Y. Project Home Consultation Program provides training and support for families of young children with autism. Our licensed and certified professionals collaborate with parents to create a home-based program that is effective, fun, and useful in day-to-day interactions with their child. The P.L.A.Y. Project emphasizes the importance of helping parents become their child's best P.L.A.Y. partner.
For detailed information about The P.L.A.Y. Project Home Consultation Program, please watch the webinar below or visit the FAQ for Parents page.
In the twenty minute webinar below, Ashley Case, P.L.A.Y. Project Training Director, provides an overview of the program and an in-depth explanation of what families can expect when they sign up to receive P.L.A.Y. Project services. Included in the webinar is a video of a live P.L.A.Y. Project home visit.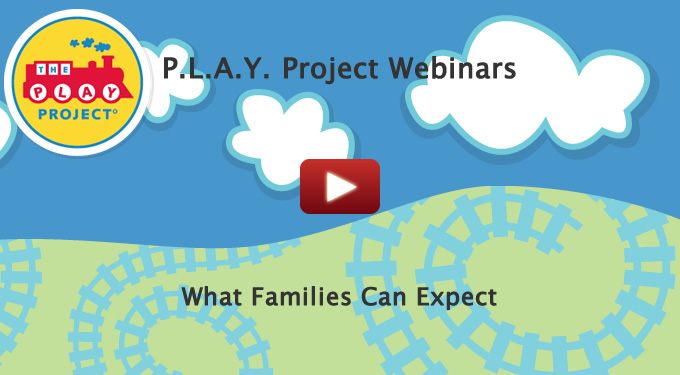 It is no small doubt in my mind, after my experience, that P.L.A.Y. therapy is a prerequisite for children with autism to receive within the span of their early brain development. This therapy is absolutely vital for parents of children with autism to understand. It is also clear that you are an excellent therapist and friend. We are very lucky to have met you!
—Jared M. Brooks