Take a look at a video that one of our PLAY Project Consultants, Kirsten Brown, created to show the effect that PLAY Project has on the lives of families with children with autism.
Click here to check out this video!
---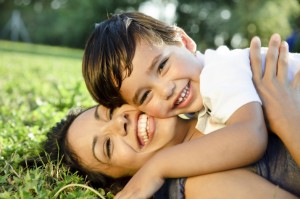 It is no small doubt in my mind, after my experience, that PLAY therapy is a prerequisite for children with autism to receive within the span of their early brain development. This therapy is absolutely vital for parents of children with autism to understand. It is also clear that you are an excellent therapist and friend. We are very lucky to have met you!
—Jared M. Brooks

The PLAY Project has offered us the training and avenues to move our child forward. The video feedback allows us to revisit training and provides us guidance. It helps strengthen our skills and provide positive feedback. We feel we are not alone in the new world of autism.
—Rich and Amy Suhrheinrich

We started The PLAY Project when our son was almost 3 yrs old and continued up until he was almost 5. With simple moves and techniques, we learned how to connect more with our child, and most importantly, have him want to connect with us. We are still so glad that this is the route that we took with him. It put into place the foundation for him that has enabled him to blossom into a happy, popular, intelligent first grader.
—Melissa from Michigan


We are very pleased with the results we've seen with our son after only three months with The PLAY Project. We've been able to connect with him in a way that was not possible before. He's showing great eye contact, attention and has tried speaking more and more. We're very pleased with his progress thus far and look forward to seeing future results.
—Edward and Heather Yest

We have immensely enjoyed seeing Magdalyn's progress so far by our family participation in The PLAY Project. It has provided a cost effective and realistic program to enhance our daughter's potential for development. We have seen her grow and connect on many different capacities since beginning in February 2005. We are excited to see what the future holds for her. It has filled us with optimism and useful tools to continue her progress and her journey.
—Steven and Kelly VanSingle

It is really helpful to have a consultant who is caring and understanding about our children . . . The PLAY Project has been truly inspiring to our family. When you never know if you are doing enough or all the right things, this plan helps us as parents to ensure that we are doing all and everything we can to help our children. Not only has it helped our son dramatically, it has also helped our family as a whole, our everyday quality of life and all those others who are blessed to have contact with our wonderful son, Dominic.
—Brian and Lorrie Gray

We listened to the whole seminar . . . and we thought, Okay, this is something we can do. It felt like the most natural thing for us to do.
 —Mick Katschor

Our son was shrieking, banging, pounding like he had something that he needed to tell us and there was no way he could tell us . . . With Dr. Solomon's training program we found we were doing the same things but in a different way, in a way to engage him. The results for us were really wonderful.
–Lisa Gretchko