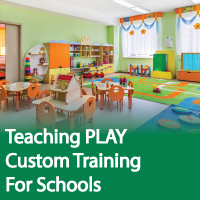 Teaching PLAY Custom Training for Schools
OVERVIEW:
The PLAY Project Organization designs customized training programs for schools or larger systems that want a comprehensive approach to training staff in Teaching PLAY.  Training facilitators tailor levels of training to the institution's needs, from basic training of volunteer, custodial, and transportation staff to Certification training of key teachers and/or therapists.  This level of training provides support to any and all levels of administration and staff in order to implement Teaching PLAY throughout the school environment.
SCHOOLS CAN CHOOSE ANY COMBINATION OF OPTIONS FOR LEARNING:
LIVE IN-PERSON TRAININGS:
– Staff in-service days
– Classroom observation and consultation
– Coaching and modeling for staff in the classroom setting
ONLINE COURSES AND RESOURCES:
– Subscriptions to introductory courses so any and all staff can learn the methods and techniques
– Live online session for continuing support of staff
– Case study archives, exams, and readings for continuing education and professional development
COST: Budget customized to the needs of the school or institution.
Click here to fill out our interest form on this training

Would you like to know more about other Teaching PLAY training options?

Click one of the below training options:
To return to the Teaching PLAY home page or fill out a online interest form about Teaching PLAY click the image below